Looking Forward to the Future—Meet Coralie Nepoose
"Education is the key to everything," says Coralie, Valedictorian of MANS' first high school graduating class. With a degree in hand, her future is bright.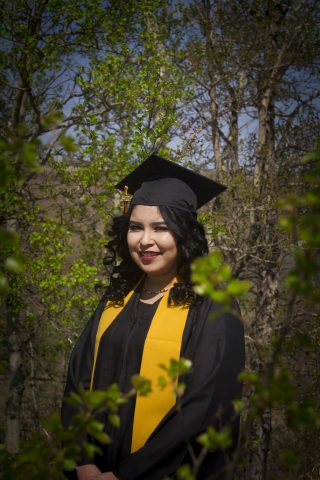 It was an emotional moment for Coralie Nepoose. She and Frederick Crier-Jamerson had come through their entire education together—all the way from daycare, in fact. Now, surrounded by family and friends on graduation night with $26,000 in scholarships, they knew they were making history (Our grads made the papers! Read about it HERE).
"We have changed our school forever," said Coralie. "We are the first Grade 12 graduates Mamawi has ever had."
It was a meaningful occasion for Freddy and Coralie's families as well, an affirmation of the power of Adventist education to impact lives and families for good.
"I didn't believe you three years ago," Coralie's father, Levi Nepoose, told Principal Gail Wilton, "when you told me my daughter would graduate from high school and go on to university. Because of this school and the scholarships," he said, offering an apology for his doubt, "we can see it's actually going to happen."
And Coralie wants to give back.
Coralie knows teachers and other professionals who don't give up can turn a life around. MANS' valedictorian plans to attend Burman University to become a teacher—perhaps the first of many to return to MANS, and to continue changing the direction of First Nations lives.
"There is nothing Freddy and I can give back to our teachers and our parents," Coralie concluded in her valedictory speech. "But let's start with 'thank you'."